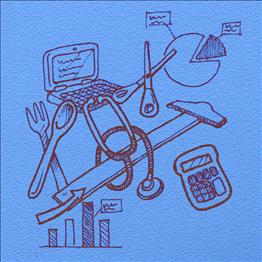 DESIGNED BY:
Sema Kızıltav, Rozerin Aydın, Deniz Özdemir, İsmail Taylan, Abdurrahman Çakır (SDFB)

PROJECT PROCESS:
At the beginning of the project, the opportunities for persons with visual disabilities to participate in employment and educational life were investigated. In line with our meetings with the NGO design partner and the previously delivered NGO presentation, issues were identified about the challenges that persons with visual disabilities encounter in economic life and solutions for overcoming these challenges were proposed. The data obtained during the course presentations and through the one-to-one meetings held with our design partner from the Six Dots Foundation for the Blind were scrutinised in detail, and it was decided that the challenges experienced by the persons with visual disabilities in economic life mostly stemmed from problems these individuals had in their education life and the lack of awareness in families about this issue. As a result, a campaign's design was decided to be developed to provide a solution to the issue.

"A FUTURE WITHOUT BARRIERS" CAMPAIGN:
Children with visual disabilities and their families living in Turkey's eastern regions were selected as the campaign's target audience. The reason for targeting the Eastern regions of the country is that the families with children with visual disabilities are less likely to be educated, and it is more difficult for them to access information in this respect. Following the interviews and meetings, it was found out that the most challenging reason for persons with visual disabilities' having difficulty in holding on to their work lives is due to their families' rather protective behaviour towards their children and lack of awareness. Families tend to isolate their children with disabilities from the outer world. Unfortunately, these children can only build their relationship with the outer world through their families, and they are not allowed to face any challenges by themselves. Therefore, children feel frightened and insecure when confronted with the external world later in their lives. This problem is also reflected in their educational lives. A significant part of children with disabilities, unfortunately, does not continue their education after primary or secondary school. Ultimately, this lack of self-confidence and sufficient capabilities and skills to be self-reliant cause people with visual disabilities to face significant challenges to become a part of economic life. The suggested campaign aims to educate and raise the awareness of families having children with visual disabilities and enable their children to become stronger individuals in their future work-life by giving them the required self-esteem and skillsets at an early age.

It was also aimed that various seminars and lectures for families will be organised to increase their empathy with their children with visual disabilities and educate them about their children's psychological developmental stages to support their development as becoming independent individuals. It is planned that individuals with visual impairments who have been successful both in education and work-life will be invited to deliver motivational speeches, enabling families through these speeches to see the real potential in their children. An environment where families in similar situations can come together and share their experiences will be provided to show them that they are not alone in overcoming problems. It is also planned that a consultant for each family will be appointed. The consultant will be in regular contact with the family and support the family as a person they can always consult and get help from, throughout their learning and awareness process.

Within the project's scope, there will also be informative seminars and lectures for teachers who will be teaching children with visual disabilities. Thus, it is aimed that other parents and students will also have a chance to raise their awareness of their children with visual disabilities through these teachers. It was intended that the campaign will increase the number of children with visual disabilities participating in education life and will enable them to receive education in a more tolerant and emphatic environment with fewer barriers throughout their education life. It is also planned that various applications and products that can support children with visual disabilities in their daily lives and at schools will be introduced. The financial support will be obtained through these product promotion activities, and hence, the project's sustainability will be guaranteed. As designed as a social campaign, the project also includes a modular playground design where children with visual disabilities can socialise with other children. These playgrounds are planned to be built in schoolyards where children can play and interact with each other when their families participate in the seminars.